| County Averages | | | |
| --- | --- | --- | --- |
| Average Sale Price: | Units Sold: | Newly Listed: | Days on Market: |
| $277,491(+7.6%) | 133 (5.5%) | 293 (-3.9%) | 180 (+5.3%) |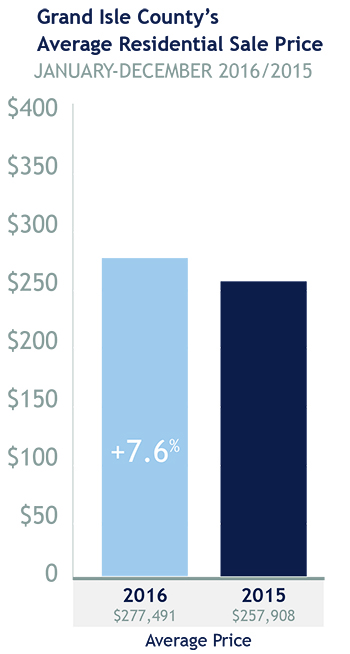 The luxury segment, which traditionally has represented a significant portion of the county's property market, remains slow. Our Realtors note it may be due to this summer's low water levels on Lake Champlain which stranded some docks and created difficulties for some boaters. However, taxes for lakefront properties in Grand Isle County provide an affordable alternative to Chittenden County.
Because the county is the smallest for property transactions in the region, a small number of sales may have a large impact on a town's pricing and demand trends.
The following are some trends impacting the property market in Grand Isle
Quality inventory problems
Newly listed homes slipped by 3.9% last year, slightly tightening the available for-sale homes. Our Agents note that finding move-in-ready homes in the lower and mid-priced segments can be a challenge. Homes that need work or updating are more plentiful, but require more time to sell.
Growth in land sales
As with Northwest Vermont's other three counties, Grand Isle witnessed a boost in land sales, thanks to demand for custom-built homes. The number of sold properties rose 83 percent to 22 sales in 2016. The average sale price jumped more than 57 percent to slightly more than $96,000.
Four luxury sales
Grand Isle's luxury market recorded four transactions of $850,000 or higher in 2016. One of those sales was in Isle LaMotte which resulted in a 109% increase in average sale price for the town.  With taxes for lakefront properties less than in nearby Chittenden County, Grand Isle County is traditionally popular for second homes.  The Islands provide a great escape with a rural charm, biking trails, local businesses including a vineyard and orchards, and dining options.