| Single Family | | | | |
| --- | --- | --- | --- | --- |
| Median Sale Price: | Average Sale Price: | Units Sold: | Newly Listed: | Days on Market: |
| $184,000 (-6.2%) | $201,289 (-3.2%) | 93 (-7.9%) | 161 (+10.3%) | 129 (+12.2%) |
| Condo | | | | |
| --- | --- | --- | --- | --- |
| Median Sale Price: | Average Sale Price: | Units Sold: | Newly Listed: | Days on Market: |
| $171,450 (-27%) | $191,359 (-12.8%) | 12 (+9.1%) | 16 (+14.3%) | 228 (+48.1%) |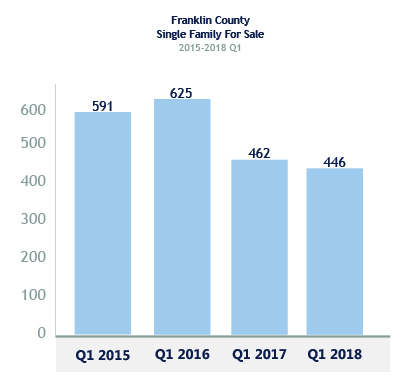 Home buyers find affordability and options across Franklin County.

The number of new properties listed during the start of 2018 has increased, and the total number of homes available to purchase has stabilized.
Buyers are finding more home for their money in towns and cities close to Interstate 89 like Fairfax, St. Albans and Swanton– while vacation home purchases are driving median price increases in towns in the northeast part of the county.