| Single Family | | | | |
| --- | --- | --- | --- | --- |
| Median Sale Price: | Average Sale Price: | Units Sold: | Newly Listed: | Days on Market: |
| $255,000 (+15.9%) | $268,211 (+5.86) | 46 (-13.2%) | 83 (-25.9%) | 186 (+33.8%) |
| Condo | | | | |
| --- | --- | --- | --- | --- |
| Median Sale Price: | Average Sale Price: | Units Sold: | Newly Listed: | Days on Market: |
| $159,240 (-18.9%) | $148,548 (-44.8%) | 5 (-28.6%) | 3 (+200%) | 61 (-50.8%) |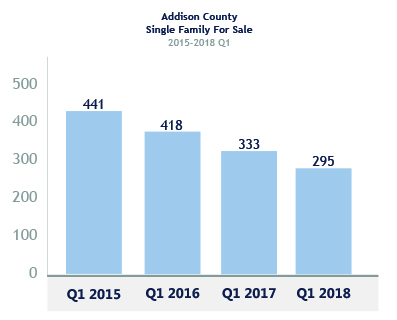 The growth in the median and average sold price for residential property in Addison County continued into the first quarter of 2018.

The median price of single-family homes continues to rise year over year while the number of homes for sale hit a five year low. Starksboro, Vergennes, Lincoln and Middlebury lead the county in the number of sales closed – all posting healthy increases in the median sale price of single-family homes.
The number of land sales increased by 78% over the 1st quarter of 2017.