| Single-Family Homes | | | | |
| --- | --- | --- | --- | --- |
| Median Sale Price: | Average Sale Price: | Units Sold: | Newly Listed: | Days on Market: |
| $355,000 +4.4% | $408,623 +7.2% | 1403 +13.7% | 1720 +12.4% | 45 -27.4% |
| Condos | | | | |
| --- | --- | --- | --- | --- |
| Median Sale Price: | Average Sale Price: | Units Sold: | Newly Listed: | Days on Market: |
| $255,000 +8.5% | $283,855 +6.9% | 669 -0.9% | 738 -8.7% | 59 +1.7% |
The housing market remains hot in Chittenden County posting double digit gains in the number of single-family homes sold.
The 12% increase in homes listed during 2019 was quickly absorbed by the buyers in the market. With mortgage interest rates dropping in 2019, many new buyers entered the market after remaining on the sidelines. Multiple offers in key areas and price points, continued to push the median and average sale prices up. Shelburne, Charlotte and South Burlington posted the highest median prices in the county while Winooski, Bolton and Milton offered homes below the county median.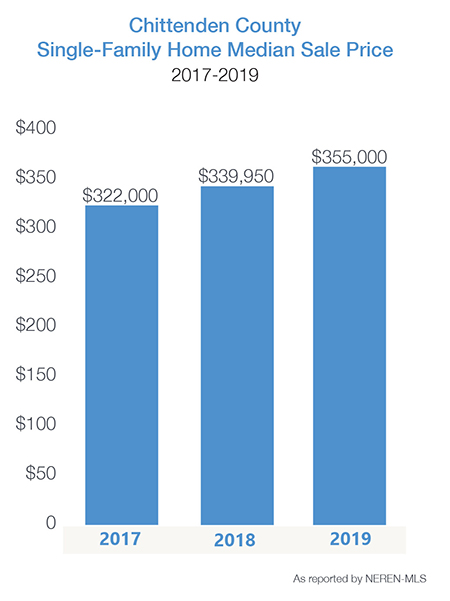 Condominiums remain a more affordable option than single-family homes in Chittenden County. The 8.5% increase in median price may be a result of newly built condos, at higher prices, in addition to the normal affects of supply & demand. Ease of maintenance, the "right size" floorplans and energy efficiency of new condominiums are attractive to families and empty- nesters alike.
In South Burlington, Hillside at O'Brien Farm welcomed 23 new homeowners with 13 more awaiting their dream homes to be completed in 2020. South Village, off of Spear Street, may introduce the long-awaited Phase 3 of their "agri-hood" community. Additional new construction projects in Shelburne, Essex and Williston may ease the inventory shortage slightly.
With "days on the market" (the time from listing to closing) at only 1.5 months, buyers must be well prepared to act fast with the assistance of their REALTOR if they want to achieve their dream of home ownership in 2020.
| Single-Family Homes | MEDIAN | VS 2017 | UNITS SOLD | VS 2017 | NEWLY LISTED | VS 2017 | DAYS ON MARKET | |
| --- | --- | --- | --- | --- | --- | --- | --- | --- |
| Chittenden County | $355,000 | 4.40% | 1403 | 13.70% | 1720 | 12.40% | 45 | |
| Bolton | $282,500 | 2.00% | 10 | -23.10% | 11 | -31.30% | 66 | |
| Buels Gore | n/a | n/a | n/a | n/a | n/a | n/a | n/a | |
| Burlington | $347,000 | 2.40% | 218 | 23.90% | 260 | 27.50% | 36 | |
| Charlotte | $522,000 | 0.40% | 66 | 22.20% | 90 | 13.90% | 109 | |
| Colchester | $363,500 | 7.70% | 166 | 38.30% | 216 | 36.70% | 43 | |
| Essex | $339,950 | 6.20% | 202 | 9.20% | 239 | 4.80% | 35 | |
| Hinesburg | $349,000 | 1.80% | 51 | 30.80% | 51 | -15.00% | 57 | |
| Huntington | $325,500 | 14.30% | 24 | 26.30% | 21 | -32.30% | 50 | |
| Jericho | $385,000 | 4.10% | 69 | 30.20% | 86 | 30.30% | 38 | |
| Milton | $289,950 | 0.00% | 116 | 6.40% | 134 | 6.40% | 41 | |
| Richmond | $350,000 | 8.40% | 31 | 14.80% | 44 | 46.70% | 29 | |
| Shelburne | $597,500 | 51.50% | 76 | 10.10% | 88 | -3.30% | 54 | |
| South Burlington | $430,000 | 6.70% | 169 | -2.90% | 224 | 9.30% | 43 | |
| St. George | $434,393 | 36.80% | 8 | 14.30% | 11 | 37.50% | 120 | |
| Underhill | $326,500 | -18.30% | 36 | 5.90% | 50 | 31.60% | 35 | |
| Westford | $314,900 | 1.60% | 29 | 20.80% | 38 | 8.60% | 68 | |
| Williston | $397,000 | 5.90% | 84 | -5.60% | 108 | 2.90% | 45 | |
| Winooski | $266,750 | -5.20% | 48 | 20.00% | 49 | 0.00% | 27 | |
| Condos | MEDIAN SALE PRICE | VS 2017 | UNITS SOLD | VS 2017 | NEWLY LISTED | VS 2017 | DAYS ON MARKET |
| --- | --- | --- | --- | --- | --- | --- | --- |
| Chittenden County | $255,000 | 8.50% | 669 | -0.90% | 738 | -8.70% | 59 |
| Bolton | $131,500 | 22.90% | 11 | -8.30% | 8 | -50.00% | 88 |
| Burlington | $268,500 | 2.70% | 106 | 5.00% | 129 | 17.30% | 46 |
| Charlotte | n/a | n/a | n/a | n/a | 1 | n/a | n/a |
| Colchester | $224,000 | 8.70% | 73 | 9.00% | 91 | 5.80% | 48 |
| Essex | $247,450 | 21.90% | 138 | 7.80% | 139 | -17.80% | 58 |
| Hinesburg | $272,450 | 71.60% | 8 | 0.00% | 7 | -36.40% | 201 |
| Jericho | $291,357 | 24.00% | 11 | 57.10% | 10 | 66.70% | 64 |
| Milton | $213,725 | 6.90% | 28 | 33.30% | 31 | 0.00% | 69 |
| Richmond | $212,000 | -29.30% | 3 | 50.00% | 3 | 0.00% | 60 |
| Shelburne | $375,000 | 31.60% | 23 | 15.00% | 34 | 47.80% | 45 |
| South Burlington | $241,000 | 3.90% | 183 | -10.70% | 210 | -9.90% | 55 |
| Underhill | n/a | n/a | n/a | n/a | n/a | n/a | n/a |
| Williston | $320,530 | 3.10% | 73 | -9.90% | 63 | -35.10% | 79 |
| Winooski | $250,000 | -15.30% | 12 | -47.80% | 12 | -47.80% | 86 |