| County Averages | | | |
| --- | --- | --- | --- |
| Median Sale Price: | Units Sold: | Newly Listed: | Days on Market: |
| $269,900 (+3.1%) | 1970 (+14.9%) | 2720 (+2.3%) | 78 |
Chittenden County, the most active real estate market in our region, recorded significantly more residential sales in 2015, thanks to stronger local and national economies and record low interest rates. Median sale prices rose 3.1 percent, representing a healthy and sustainable increase.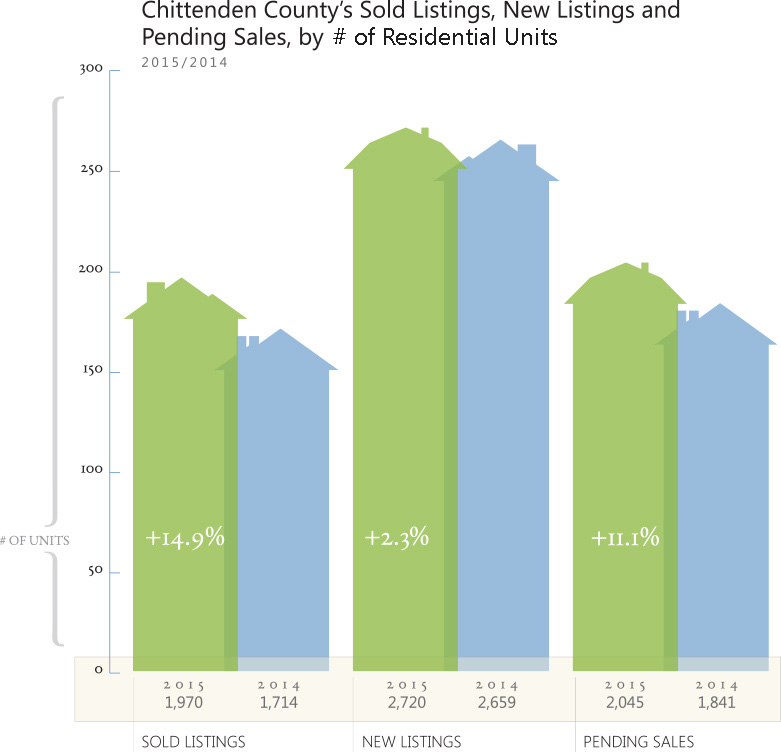 Above-average temperatures during the fall helped maintain some buyers' interest in pursuing their home searches, capping off what had been a strong spring and summer. Typically, colder weather can lead to some home buyers curtailing their searches until spring returns.
Burlington continues to draw homebuyers, including first-time buyers and those looking to move into bigger properties or downsize. The city's residential sales surged by 22.5% last year, making it one of the county's most active towns. Still, the median sale price slipped by 2.2%, reflecting demand for lower-priced inventory in the New North End and Old North End. Our Realtors also note that some Burlington sales represented older homes with deferred maintenance, which provided buyers with greater bargaining power and opportunity to build equity.
Strong Demand for Mid-Priced Properties
Affordable homes in the $250,000 to $350,000 price range are in the sweet spot, given the emergence of first-time homebuyers who are seeking mid-priced properties as their entry into the property market.
More Inventory in the Over-$500,000 Segment
Even though the median household income in Chittenden County is about $64,000, or 18% higher than Vermont's median income, that's not enough to support the purchase of some higher-end homes. As a result, inventory in the over $500,000 is growing, providing more choices for executive-level buyers.
Vibrant Health, Tech, and Education Sectors
Chittenden County not only has big employers like Dealer.com, but a growing number of tech start-ups that are seeking to hire new employees in both entry-level and mid-career roles. Additionally, the UVM Medical Center and educational institutions such as Champlain College continue to hire, bringing new professionals and homebuyers into the market..
Proximity and Cost
While Burlington remains a popular property market, some buyers are seeking nearby towns that offer more space or lower prices. Milton, Winooski, Jericho, and Colchester are among the towns that recorded double-digit percentage increases in sales last year.
---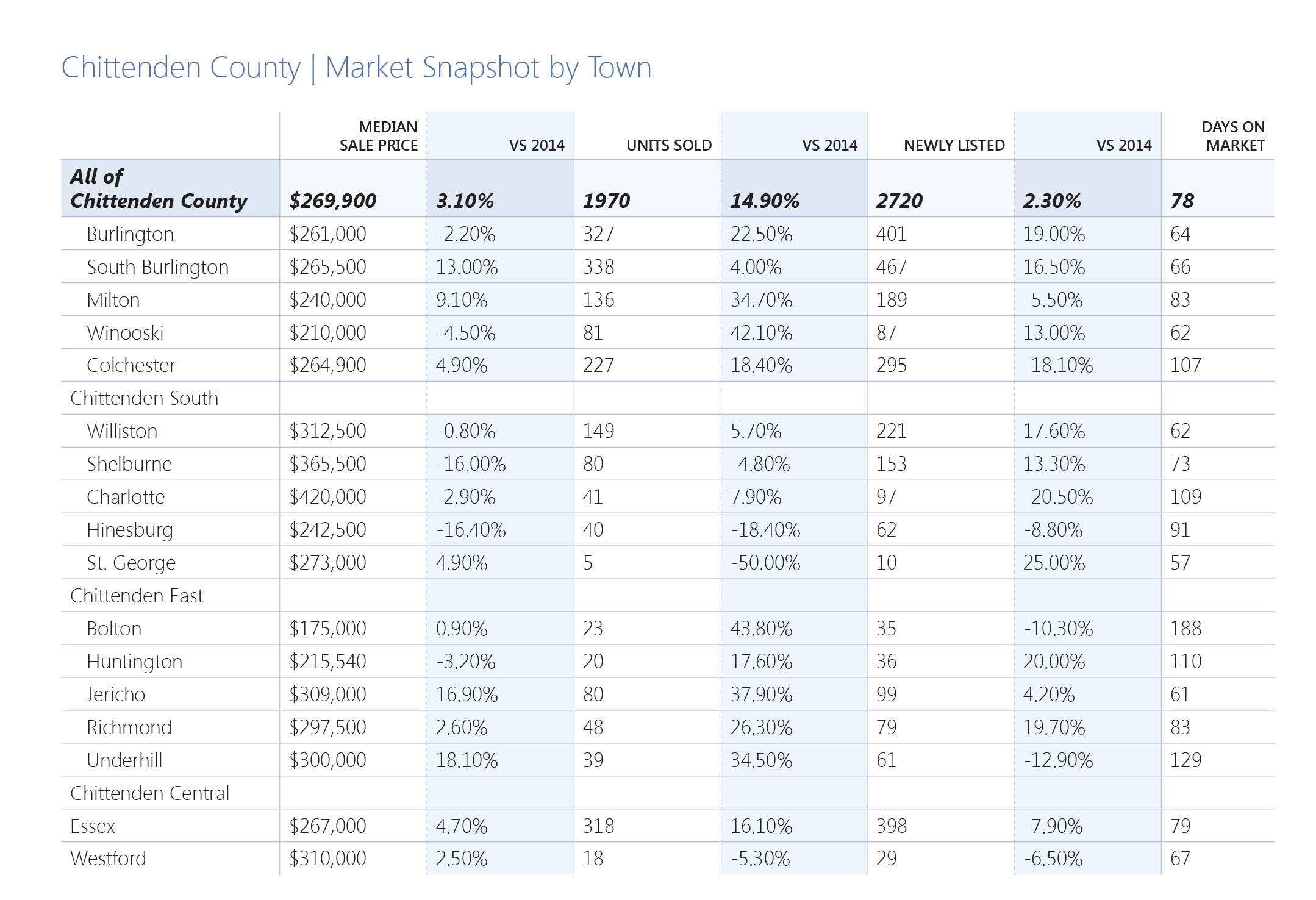 The multi-family market recorded 98 sales last year, an increase of 6.5% compared with 2014. For a longer discussion of trends in this market, please see our multi-family section in the Mid-Year Market Report.
Fifty-two land parcels were sold in Chittenden County last year, little changed from 2014. The median sale price rose 6.8% to $133,500. Demand remains steady for lots where professionals and retirees can build custom-homes..