| Multi-Family Averages | | | |
| --- | --- | --- | --- |
| Median Sale Price: | Units Sold: | Newly Listed: | Days on Market: |
| $310,000 | 51 (-8.9%) | 124 (0.8%) | 103 |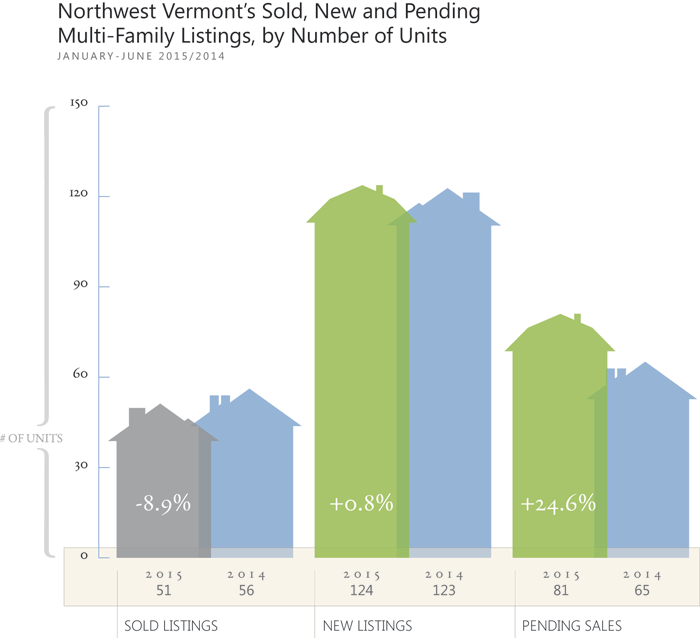 The multi-family property market remains in high demand from investors, thanks to Northwest Vermont's low vacancy rate and relatively high rents.
While that's attracting buyers into the market for duplexes and three- and four-unit properties, our Agents are noting more demand from buyers than can be met with current inventory levels, especially when it comes to properties that are in good condition and in prime locations.
Across the four counties, the median sale price rose 4.2%, while the transaction volume slipped 8.9%. Several trends are impacting this market:
---
Inventory Remains Tight
Those supply-and-demand issues are causing the median sale prices of multi-family homes to rise, with some properties attracting multiple offers. Given the lack of inventory, however, the number of transactions has declined during the first six months of this year when compared with a year earlier.
Chittenden County's Attractive Vacancy Rate
While the long-term vacancy rate in Chittenden County is only 1.4%, there has been some easing this year given the construction of hundreds of new units, such as Finney Crossing in Williston and Great Cedars in Winooski, according to real estate consulting firm Allen & Brooks. That's caused the vacancy rate to jump to 2.8%, the highest since Allen & Brooks started surveying the issue more than two decades ago. Nevertheless, that is still significantly lower than the national vacancy rate of about 4.1%.Because the vacancy rate has eased, renters are taking more time to choose their apartments, although Allen & Brooks notes that available units are eventually leased because of the still lower than-average vacancy rate.
High Monthly Rents
Investors are eager to participate in Northwest Vermont's multi-family market because monthly rents are relatively high. Rent for a three-bedroom apartment was almost $1700 in 2014, which is also attractive to investors. Across all apartment sizes, rents rose 2.3% last year.
---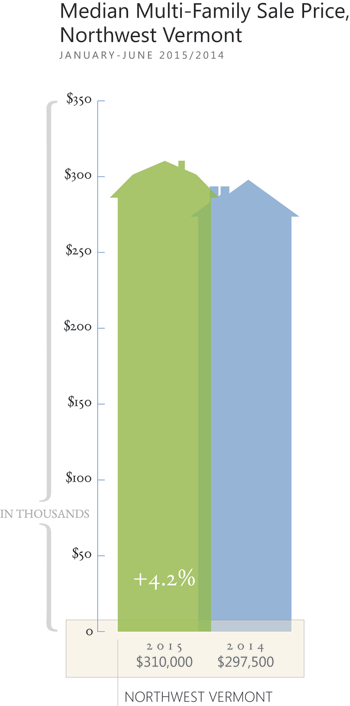 Local businesses such as Keurig Green Mountain and the Immigration and Naturalization Service are hiring and bringing new professionals to the region. Many of those young professionals prefer to rent rather than buy at the moment.
However, as the economy continues to improve, more renters may shift into the home-buying market, which could lead to higher vacancy rates, according to Allen & Brooks.
MARKET INSIGHTS
Tight inventory remains an issue in the multi-family market.
Vacancy rates have eased this year, but still remain lower than the national average.
Monthly rents have continued to rise.