| County Averages | | | |
| --- | --- | --- | --- |
| Median Sale Price: | Units Sold: | Newly Listed: | Days on Market: |
| $194,050 (-8.7%) | 62 (+10.7%) | 147 (-2.6%) | 169 |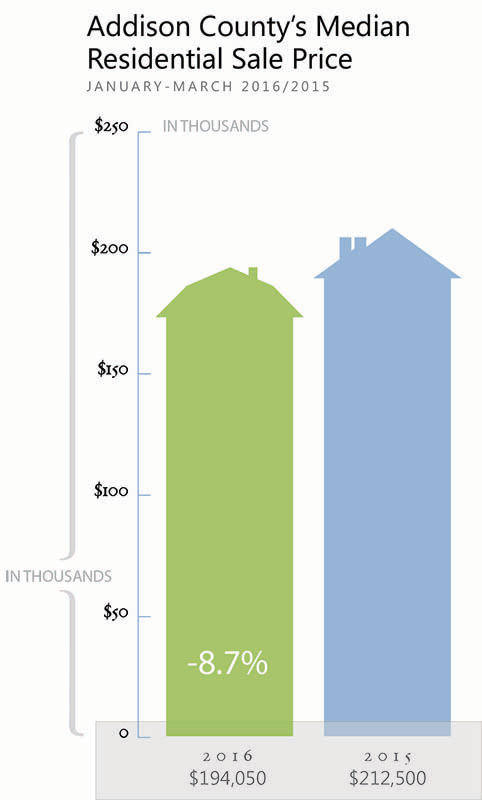 After a strong 2015 when sales and pricing demonstrated strength, Addison County witnessed a somewhat more mixed first-quarter. Property demand remained robust, although the median sales price slipped by 8.7% during the first three months of the year. Because the first three months of the year represent the slowest period for real estate sales, a few transactions can have an overly large influence on the entire county's market.
Addison County is drawing more buyers thanks to record low mortgage rates and declining prices at the gas pump, which is making the county more attractive to professionals willing to commute.
---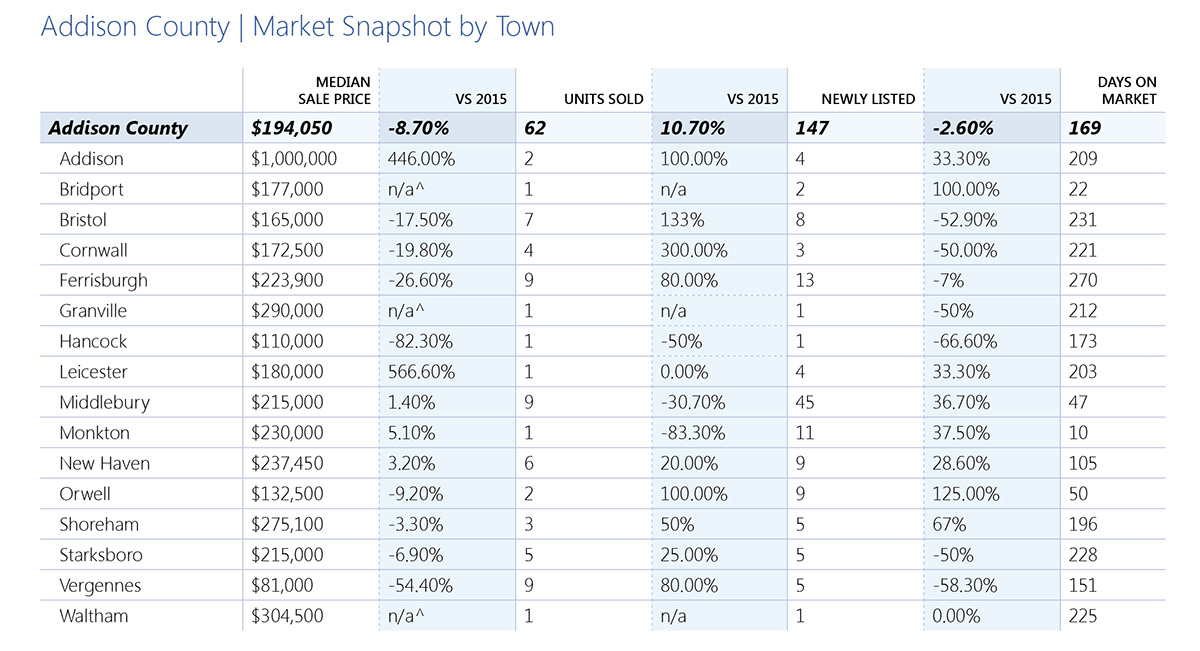 Demand For Ferrisburgh and Middlebury Homes
While Middlebury is traditionally one of the busiest real estate markets in Addison County Ferrisburgh caught up in the first quarter. Both towns recorded 9 residential sales during the quarter, making them the county's most active real estate markets during the period.
Local Employers are Hiring
Institutions such as Middlebury College and Vermont Hard Cider are adding new employees, helping to draw more buyers into the market.
Shift to Lower-Priced Inventory
During the winter months, homebuyers sought out homes at lower price points, shifting the market toward the below-$200,000 range.
Search for Land
Demand for lots doubled in the first quarter, driven by professionals and retirees interested in building their own custom homes on property in the county.