| Single Family | | | | |
| --- | --- | --- | --- | --- |
| Median Sale Price: | Average Sale Price: | Units Sold: | Newly Listed: | Days on Market: |
| $260,000 (+7.2%) | $286,683 (+8.0%) | 351 (+9.7%) | 540 (-0.6%) | 140 (-4.1%) |
| Condo | | | | |
| --- | --- | --- | --- | --- |
| Median Sale Price: | Average Sale Price: | Units Sold: | Newly Listed: | Days on Market: |
| $194,500 (+5.7%) | $246,040 (+14.8%) | 21 (+10.5%) | 19 (-34.5%) | 59 (-19.2%) |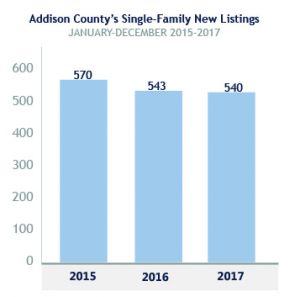 Addison County is a bright spot in our 2018 Market Report, with healthy increases in median sales prices (up 7%) and average sales prices (up 8%) of single-family homes.
The median and average sales prices of condos are up 6 and 7%, respectively. Inventory is moving quickly, too: Days on the market — from listing to closing — for single-family homes dropped by 4%, and dropped 20% for condos. New listings decreased in both categories.
Middlebury, Addison County's largest town, saw a 66% rise in single-family home sales over 2016. With a strong increase in buyer demand, and a 7% dip in new listings, the median sale price of a Middlebury home jumped by nearly 13% to $265,000. Monkton and Bristol also had healthy increases in sales and median pricing, as buyers search for a quality of life and reasonable commuting distance to the greater Burlington area.
Land sales were strong in Addison County, too — up 37% from 2016, with 184 new land listings on the market.