| | Median Sale Price | Average Sale Price | Units Sold | Newly Listed |
| --- | --- | --- | --- | --- |
| Luxury* | $999,000 (0) | $1,042,409 (5.1%) | 11 (83%) | 19 (0%) |
The 1st quarter of 2019 was strong for luxury sales. Chittenden County posted 10 of the 11 sales recorded in Northwest Vermont. As we have reported over the past 2 years, sales of higher-end properties are no longer confined to lakefront.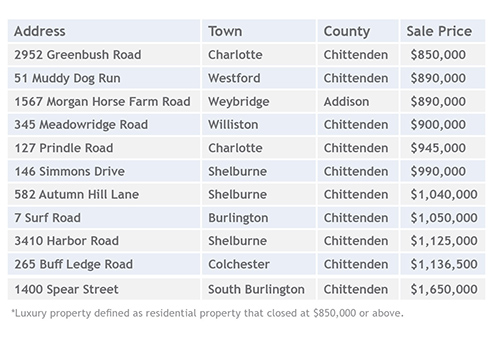 Buyers are attracted to amenities, proximity to the greater Burlington area or landmark homes that can be updated to suit their lifestyle. The Luxury Market in northwest Vermont continues to meander along being not too hot and not too slow – but "just right" for properties that are well priced and well-conditioned. As the weather starts to warm, interest in properties along Lake Champlain will increase. This market segment is typically not as urgent as the traditional primary residence market which is driven by job relocations, changes in family structure, or migration toward neighborhoods and school districts. Buyers may take their time searching for the right property – or decide to make a purchase because an extraordinary opportunity becomes available. Life events – such as the desire or need to downsize or lack of use of a property drive sellers to the market. Whatever your drivers, our Realtors® can help you assess your individual situation in the current market.
*For this report, the Luxury market is defined as Residential sales $850,000 and above.