| Single Family | | | | |
| --- | --- | --- | --- | --- |
| Median Sale Price: | Average Sale Price: | Units Sold: | Newly Listed: | Days on Market: |
| $251,500 (-6.7%) | $286,503 (+1%) | 150 (+7.1%) | 291 (+1.4%) | 117 (-8.6%) |
| Condo | | | | |
| --- | --- | --- | --- | --- |
| Median Sale Price: | Average Sale Price: | Units Sold: | Newly Listed: | Days on Market: |
| $222,500 (+39.7%) | $226,950 (+7.5%) | 10 (+42.9%) | 16 (+33.3%) | 63 (0%) |
Although the median price of single-family homes dropped by nearly 7%, this was compared to a 9% increase last year. The bright spot may be the slight increase in newly listed homes after months of sharp declines. With few condominium complexes throughout the county and therefore few sales, the increases in units and prices of sold properties need to be taken in context.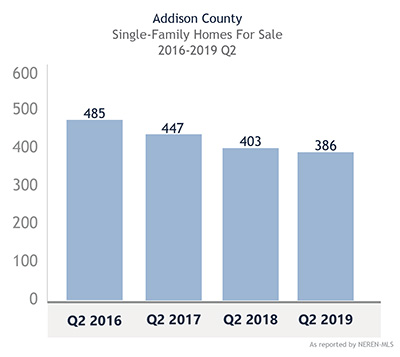 Buyers are drawn to the community amenities of towns that make up Addison County with their farm to table dining options, art galleries and shops – not to mention close proximity to Lake Champlain. Starksboro, Bristol, Monkton and Vergennes offer housing options for buyers working at nearby employers, like Collins Aerospace, or those who are comfortable with an easy commute to Burlington.
So that we can continue to best serve our customers and clients across the county, we opened our Real Estate Sales Center at 268 Main Street in Vergennes this spring. Many great events organized by The Vergennes Partnership such as colored lights on the Vergennes Falls each evening, City Band Concerts every Monday through the summer, or the Eat on the Green Food & Musical Festival in September – are just steps from our office. Stop by to say hello.