| Condo | | | | |
| --- | --- | --- | --- | --- |
| Median Sale Price: | Average Sale Price: | Units Sold: | Newly Listed: | Days on Market: |
| $241,000 (+4.8%) | $274,394 (-5.3%) | 298 (-7.2%) | 353 (-24.4%) | 77 (+26.2%) |
| Single Family | | | | |
| --- | --- | --- | --- | --- |
| Median Sale Price: | Average Sale Price: | Units Sold: | Newly Listed: | Days on Market: |
| $355,000 (+4.1%) | $408,691 (+9.8%) | 571 (+7.1%) | 914 (+6.5%) | 56 (-22.2%) |
The number of single-family homes coming on the market has increased over the same period last year for the second consecutive quarter. While this is good news, the increase in supply still cannot meet the demand from buyers. Median and average sale prices, once again, posted increases pushing the levels to record highs.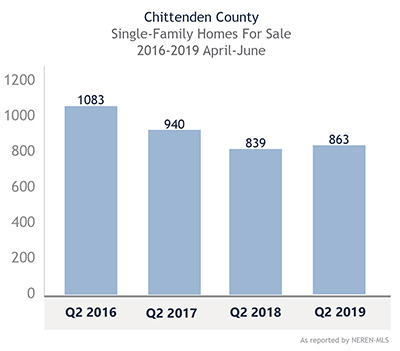 Price conscientious buyers, wanting to live in Chittenden County, might look outside of the greater Burlington area, where homes may be closer to their budget. Hinesburg, Underhill, Westford, and Milton offer median prices under the county average along with increases in the number of newly listed homes.
Condominiums offer a lower maintenance lifestyle than single family homes. In most towns in Chittenden County, the median condo price increased as inventory declined sharply. However, the prices are typically less than a single-family home of similar age and condition. New developments in Williston, Essex and South Burlington, over the past couple of years, increased the number of condos available for sale during those periods. As these new communities near the build out of existing phases, inventory numbers have fluctuated.
Hot spots – areas with increased median price and number of units sold include Burlington, Colchester, Jericho, Shelburne, and Williston. Winooski is still the "most affordable" town in Chittenden County with a median price of $281,500. However, continued demand from buyers, attracted to the vibrant downtown, has resulted in multiple offers on newly listed homes – many of them cash sales with few contingencies. The "Days On Market" (DOM) in Winooski is just over one month.
Adjustments reported in the number of sales and new listings in South Burlington is a result of a shift in inventory available in new developments such as Hillside at O'Brien Farm which launched in 2018 and has closed nearly 25 units – and the near completion of Phase 2 to permitting Phase 3 at South Village.
With few exceptions – homes are closing in less than 2 months from list date. Sellers must be prepared to act quickly when their property hits the market and offers come in. Working with your agent in advance to identify where you want to live and what your budget will allow is important in managing expectations. To realize the most value from the sale of your home, now is the time to start cleaning out your garage, basement and closets; and to complete deferred maintenance items while the weather is on your side.