| Luxury Homes | | |
| --- | --- | --- |
| Median Sale Price: | Units Sold: | Days on Market: |
| $990,000 (-1.4%) | 29 (+70.6%) | 120 (-46.7%) |
Across the country, the luxury home market has stabilized with the median sale price remaining near $1.4 million. Nationally, analysts agree, the luxury market's slowdown is related to world trade activities and geopolitics. Affluent investors coming from countries with political and financial uncertainty still find North America to be a highly desirable destination although demand is softening. Vermont's housing market, in general, has not been impacted by foreign investors for good or bad. Locally, the sales of luxury homes* has continued to grow.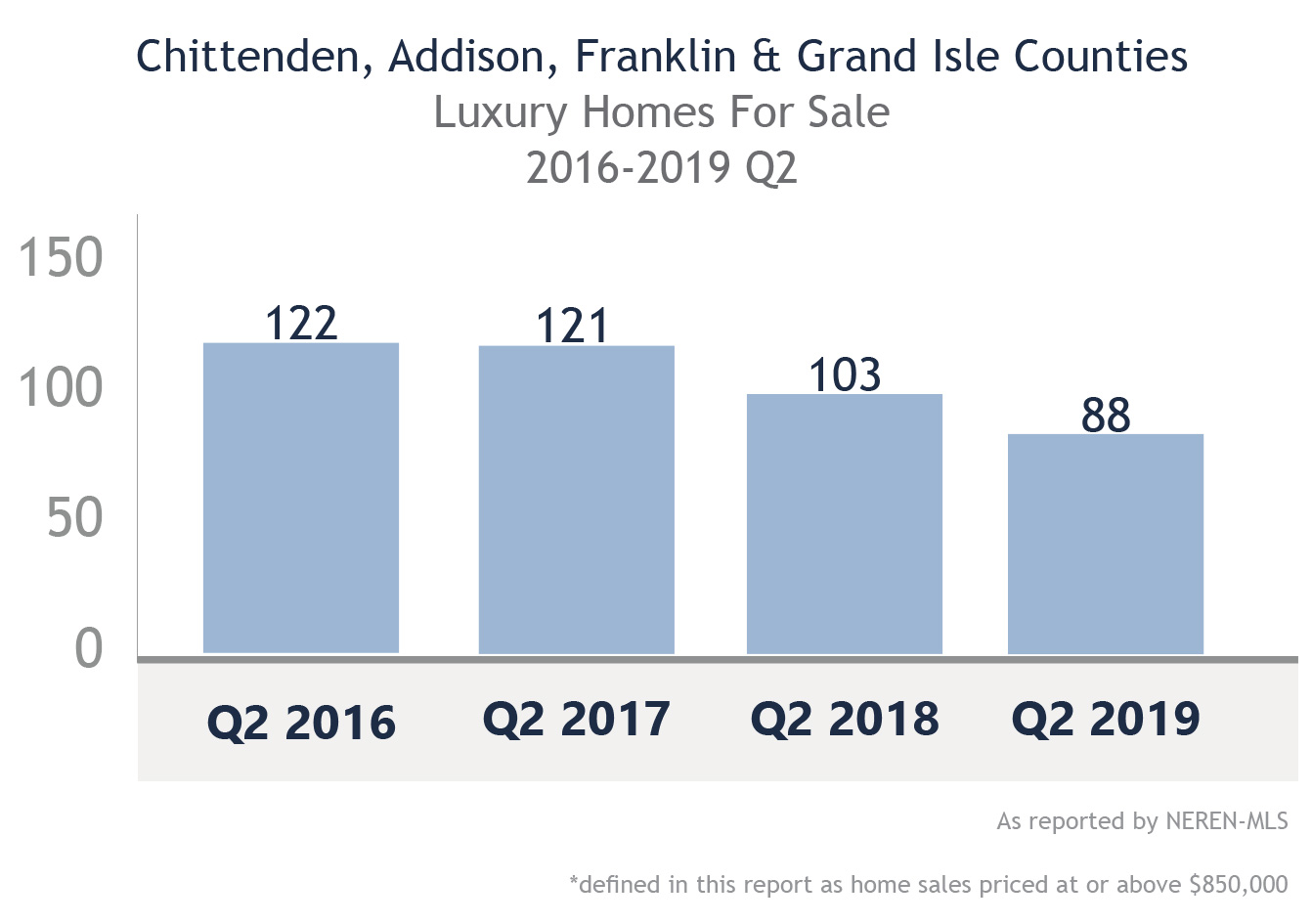 After an increase of 4% in total sales in 2018, the number of luxury homes sold in the first half of 2019 jumped 70.6%. The number of homes for sale during the same period dropped 15% over 2018 and dropped nearly 28% in 4 years- meaning the inventory of homes continues to be absorbed by the market. The DOM (days on market) for the Luxury homes sold so far in 2019 is only 120 days- or 4 months. Homes in need of renovation may stay on the market for considerably longer as today's buyers search for turn key options to suit their lifestyle.
According to "The Report – State of Luxury 2019" published by Coldwell Banker Global Luxury, "preferences for tangible features of a home such as architecture and interior design vary from person to person, but the essence of what wealthy buyers seek in a luxury home is a sanctuary that promotes their security, serenity, and overall well-being—whether the property is a gated beachfront home, an urban pied-à-terre, or a working winery sprawled across hundreds of acres. Compared to other asset classes like stocks and bonds, high-end real estate is unique in that it provides not only an investment, but also security, comfort, and enjoyment as a place to live." On a local scale, the luxury homes sold since January 2019 reflect these qualities – homes on Lake Champlain, properties close to downtown and country properties with views and acreage.
*Luxury is defined as homes sales at or above $850,000