| Single Family | | | | |
| --- | --- | --- | --- | --- |
| Median Sale Price: | Average Sale Price: | Units Sold: | Newly Listed: | Days on Market: |
| $252,500 (+27.9%) | $300,047 (-1.7%) | 58 (+5.5%) | 133 (-2.2%) | 149 (-36.9%) |
| Condo | | | | |
| --- | --- | --- | --- | --- |
| Median Sale Price: | Average Sale Price: | Units Sold: | Newly Listed: | Days on Market: |
| $270,000 | $270,000 | 1 | 1 | 114 |
Summer was late in arriving this year – but the sunny days and high temperatures we are experiencing now should bode well for Grand Isle County. This is the time of year when the islands "shine."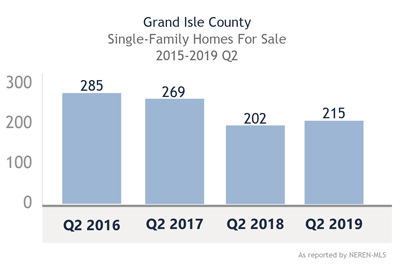 While only a short drive south to Burlington or north to Canada, you will think you are at a summer destination much farther away like Martha's Vineyard or Nantucket! Similar to those locales, the natural confines of an island geography coupled with development and permitting restrictions naturally limit growth in the county.
The number of homes available for sale during the 2nd quarter has stabilized but is far from the 285 homes available in 2016. The median price of homes declines as your travel north from South Hero to Alburg and Isle la Motte. Not coincidentally, the number of homes sold increases as you travel north with the DOM (days on market) much more favorable up north as well.
Historically, the sale of a couple of high-end luxury homes in South Hero affects the data significantly and doesn't necessarily mean that homes are depreciating or appreciating at that rate. Alburgh, the most affordable town in the islands, posted the greatest number of sales during the first half of this year.
A "once in a lifetime" lakefront compound has come to market in South Hero – the first time the property has been for sale in over 90 years. This unique property – surrounded by Lake Champlain on 3 sides – offers unparalleled privacy and a step back in time to a simpler summer experience. Offered at $4.9 million, the sale of the property will set a benchmark for prices in the county and northwest Vermont.