| Single Family | | | | |
| --- | --- | --- | --- | --- |
| Median Sale Price: | Average Sale Price: | Units Sold: | Newly Listed: | Days on Market: |
| $300,000 (+5.3%) | $343,918 (+9.5%) | 1006 (+1.3%) | 1743 (+.8%) | 81 (-18.2%) |
| Condo | | | | |
| --- | --- | --- | --- | --- |
| Median Sale Price: | Average Sale Price: | Units Sold: | Newly Listed: | Days on Market: |
| $239,950 (+9.3%) | $268,129 (+5.7%) | 330 (-7.6%) | 415 (-18.8%) | 80 (+11.1%) |
The mid-year point is an important milestone for real estate trends, especially in northwest Vermont. We are in the midst of the traditional "height of the market." Closings on real estate sales surge in June, July, and August in between the school year, vacations, holidays and other life events that typically drive the market. In addition to single family and condominium sales – this report looks at results and trends in luxury & multi-family sales – as well as land sales throughout the region.

Low inventory continues to be the story in the national and local housing market. Properties coming on the market have been in short supply for a few years resulting in less sales, while demand remains strong. Steadfast price growth for homes in northwest Vermont is good news for sellers but has challenged some buyers trying to get into the market. Competition for properties under $400,000 may not let up for quite some time.
So far in 2019, first-time buyers only accounted for 31% of home sales – well below the historic market share of 40% according to the National Association of REALTORS. There remain several reasons first time buyers are struggling to get in the market: student debt, starter home inventory in short supply, and credit score requirements are tighter than historic norms.
Nationally & locally, new construction levels have failed to keep pace with population growth, shifting demographic preferences and the aging housing stock. Vermont has the second oldest housing stock in the country. Builders face challenges in land, permit and material costs, as well as shortages in labor. In some communities, neighbors are raising concerns about the loss of green space and wildlife habitats. Strong voices are needed for zoning and regulatory changes that many local governments are weighing as a way to increase housing density and improve affordability.
At a recent Burlington Housing Summit, the topic of Accessory Dwelling Units (ADU's) added to existing homes was presented as an innovative way to tackle housing shortages. Fannie Mae is funding a pilot program in Denver to add ADU's to low and middle income housing which will also generate extra income for homeowners. This type of infill housing helps support multi-generational living and allows aging homeowners to stay put longer since they can rent the ADU or primary residence to earn extra income and help with home maintenance. Zoning and permitting restrictions along with the cost of adding ADU's needs to be considered if this to be a viable solution.
Homeowners are staying put longer. On average, homeowner tenure is 8-10 years vs. 5-7 years less than a decade ago. With rising home prices and tenure increasing, real estate wealth of homeowners is growing (total asset value minus outstanding mortgage). In many cases, the wealth held by older generations is transferring to first-time buyers. According to a recent NAR survey, first time savings counts (measured in 10 states) allowed "grandma" to make deposits, and 1/3 of first-time buyers had help from family members.
Throughout this report, you may see the terms "affordable or more affordable" used when describing a particular housing type or a particular city or town. Affordability is a relative term since Vermont – particularly northwest Vermont – is not, on average, as affordable as other parts of the country such as the midwest or south. The median price of homes in northwest Vermont, at $300,000, surpasses the national median price of $261,600. Coupled with high property taxes, the cost of living in Vermont may not be "affordable" for some. Having said that, for the purposes of this report we are comparing our markets and identifying properties and towns that may have a median price below other counties or the regional average.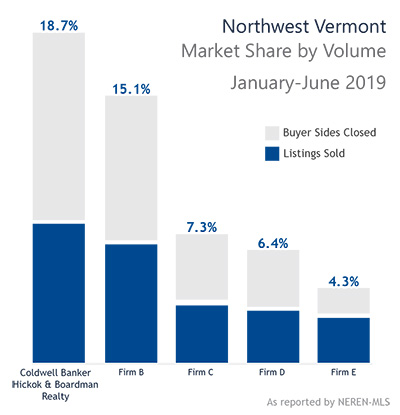 Demographically, millennials have overtaken baby boomers as the largest US adult population – and they're starting to buy homes. Statistically, they make up 45% of the home buying population. When the full buying potential of this population is realized – and the housing supply issue has been addressed, solid home sales growth should follow.
Buyers who are at a point in their life where they are ready and able to buy will find today's prices coupled with low interest rates are an advantage over long term rentals.