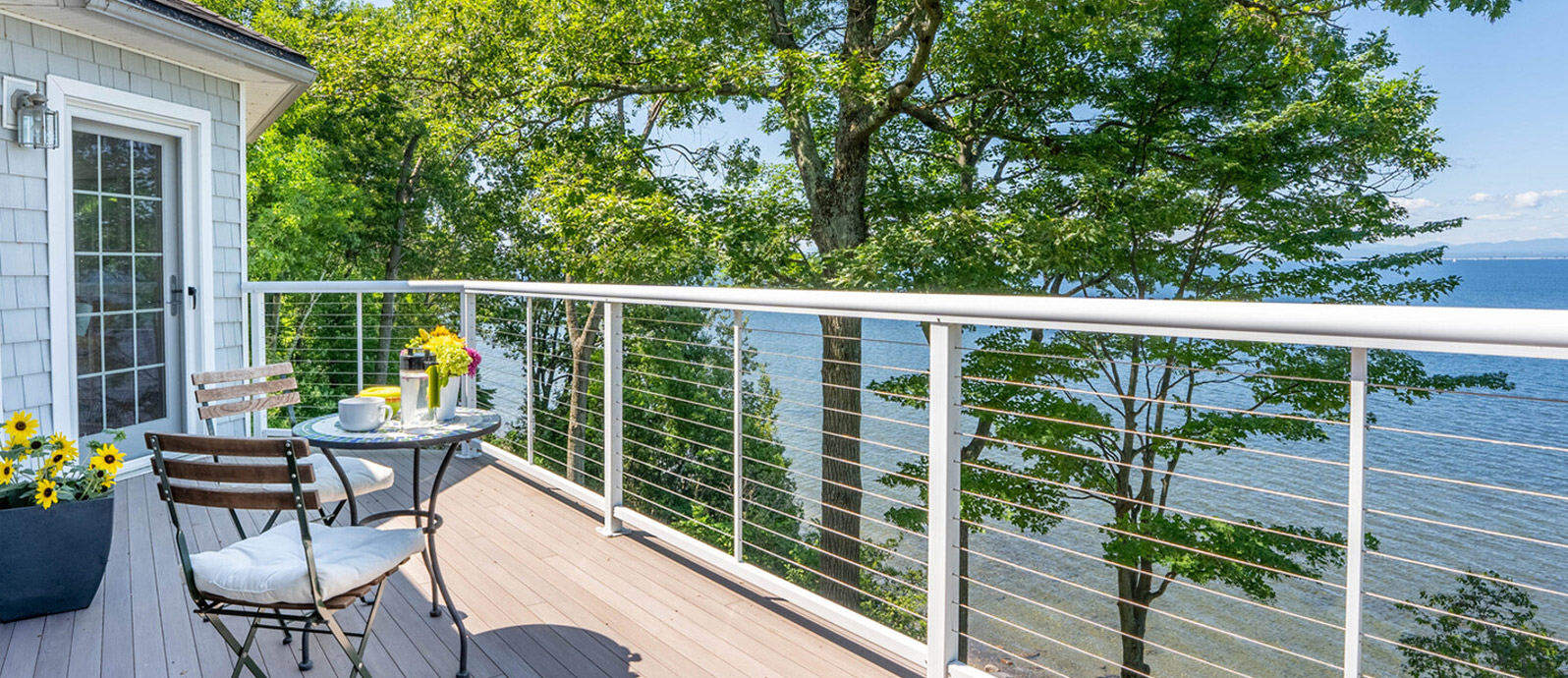 Northwest Vermont Luxury January-June 2021
Median Sale Price:
Average Sale Price:
Units Sold:
Newly Listed:
Days on Market:
$999,000 12.3%
$1,176,597 -8.5%
62 200%
99 47.8%
83 -23.2%
Chittenden County Luxury January-June 2021
Median Sale Price:
Average Sale Price:
Units Sold:
Newly Listed:
Days on Market:
$1,037,500 16.7%
$1,232,467 -5%
44 144.4%
75 63%
48 -40.7%
The stunning increase in Luxury sales across northwest Vermont and the entire state in 2020 has continued through 2021. Driven by cash buyers from within Vermont, who desire high-end amenities, views, and additional flexible living space, plus out-of-state buyers moving out of metro areas and closer to family – the luxury market grew by 200%.
Luxury home sellers recognized the opportunity to right-size their lifestyle or capitalize on their strong equity position, taking their REALTOR's advice and listing their homes earlier in the year. A 48% increase in new homes coming to market offered new opportunities for buyers who snapped up properties across the region – predominantly in Chittenden County, which accounted for 81% of the area's luxury sales.
Internationally, Coldwell Banker agents transact $168 million in daily luxury sales, including more than 32,000 properties sold. Locally, our agents represented clients in 1 out of 3 luxury sales closed in northwest Vermont so far this year. Our agents and our marketing, including best-in-class domestic and global listing syndication and prestigious publications, are a remarkable force in the arena of high-end real estate.
*For this report, Luxury homes are defined as residential properties priced $850,000 or more.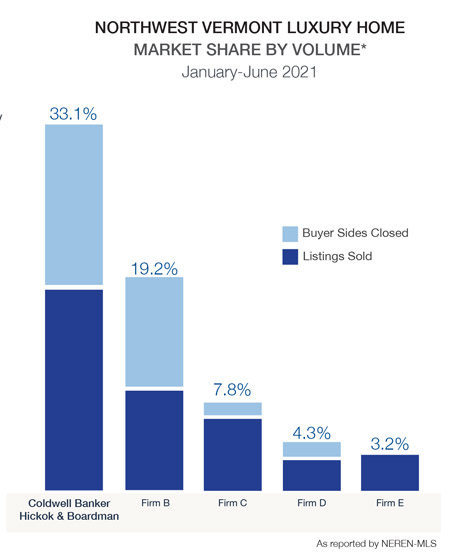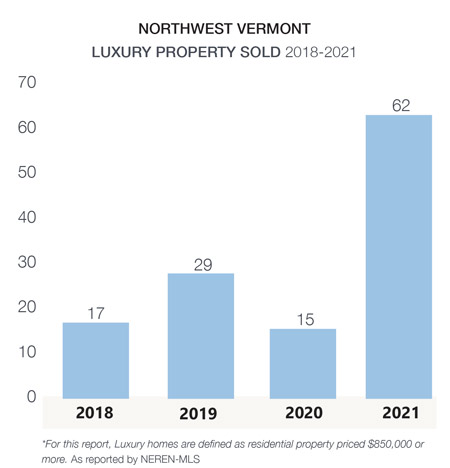 | Address | Town | County | Sale Price | Date Sold |
| --- | --- | --- | --- | --- |
| 25 Ministry Lane | South Hero | Grand Isle | $850,000 | 2/16/2021 |
| 38 Cliff Street | Burlington | Chittenden | $850,000 | 6/28/2021 |
| 5296 Dorset Street | Shelburne | Chittenden | $850,000 | 3/1/2021 |
| 117 Lakeview Terrace | Burlington | Chittenden | $870,000 | 3/19/2021 |
| 217 Heather Lane | Shelburne | Chittenden | $875,000 | 3/16/2021 |
| 550 South Bay Circle | Colchester | Chittenden | $875,000 | 5/14/2021 |
| 76 St. Paul Street | Burlington | Chittenden | $875,000 | 6/14/2021 |
| 1740 Hooker Road | Leicester | Addison | $875,000 | 5/14/2021 |
| 1 Valley Watch Road | St. Albans Town | Franklin | $880,000 | 1/29/2021 |
| 657 South Prospect Street | Burlington | Chittenden | $880,000 | 6/1/2021 |
| 19 Harbor Watch Road | Burlington | Chittenden | $885,000 | 1/29/2021 |
| 21 Chipman Street | South Burlington | Chittenden | $890,530 | 4/30/2021 |
| 74 Bixby Hill Road | Essex | Chittenden | $895,000 | 3/18/2021 |
| 40 College Street | Burlington | Chittenden | $895,000 | 3/24/2021 |
| 1075 Grandey Road | Addison | Addison | $895,000 | 6/18/2021 |
| 404 Ridgefield Road | Shelburne | Chittenden | $895,556 | 4/23/2021 |
| 42 Irish Farm Road | South Burlington | Chittenden | $899,000 | 6/1/2021 |
| 276 Sherwood Forest Road | Williston | Chittenden | $900,000 | 5/25/2021 |
| 1222 Church Hill Road | Charlotte | Chittenden | $900,000 | 6/30/2021 |
| 800 Maquam Shore Road | St. Albans Town | Franklin | $905,000 | 1/29/2021 |
| 84 Deforest Heights | Burlington | Chittenden | $908,000 | 6/7/2021 |
| 391 Southwind Road | Hinesburg | Chittenden | $915,000 | 6/4/2021 |
| 102 Adams Street | Burlington | Chittenden | $925,000 | 5/28/2021 |
| 137 Ledge Road | Burlington | Chittenden | $955,000 | 5/14/2021 |
| 47 Four Winds Lane | North Hero | Grand Isle | $960,000 | 6/7/2021 |
| 55 Cliff Street | Burlington | Chittenden | $965,000 | 6/17/2021 |
| 548 Ridgefield Road | Shelburne | Chittenden | $974,000 | 6/1/2021 |
| 2493 Lake Street | Addison | Addison | $975,000 | 5/11/2021 |
| 410 Golf Course Road | South Burlington | Chittenden | $985,000 | 2/10/2021 |
| 72 Porters Point Court | Colchester | Chittenden | $987,500 | 6/1/2021 |
| 349 Morgan Drive | Shelburne | Chittenden | $995,000 | 6/21/2021 |
| 3416 Harbor Road | Shelburne | Chittenden | $995,000 | 5/21/2021 |
| 300 Martel Lane | St. George | Chittenden | $999,000 | 4/30/2021 |
| 1263 Church Hill Road | Charlotte | Chittenden | $999,000 | 6/18/2021 |
| 373 Maeck Farm Road | Shelburne | Chittenden | $1,025,000 | 5/26/2021 |
| 273 West Shore Road | South Hero | Grand Isle | $1,050,000 | 4/29/2021 |
| 40 College Street | Burlington | Chittenden | $1,050,000 | 2/26/2021 |
| 58 Featherbed Lane | South Hero | Grand Isle | $1,051,000 | 6/10/2021 |
| 1721 Marble Island Road | Colchester | Chittenden | $1,100,000 | 6/4/2021 |
| 158 Westview Drive | Shelburne | Chittenden | $1,100,000 | 6/30/2021 |
| 6 Summit Ridge | Burlington | Chittenden | $1,100,000 | 6/7/2021 |
| 1490 Arnold Bay Road | Panton | Addison | $1,100,000 | 6/11/2021 |
| 48 Henderson Terrace | Burlington | Chittenden | $1,145,000 | 6/1/2021 |
| 339 Golf Course Road | South Burlington | Chittenden | $1,150,000 | 4/14/2021 |
| 140 South Ridge Road | Shelburne | Chittenden | $1,165,000 | 1/5/2021 |
| 87 Pinecrest Drive | Essex | Chittenden | $1,175,000 | 6/30/2021 |
| 142 Acorn Lane | Shelburne | Chittenden | $1,195,000 | 6/11/2021 |
| 311 Autumn Hill Lane | Shelburne | Chittenden | $1,200,000 | 4/16/2021 |
| 166 Sutton Farm Drive | Williston | Chittenden | $1,210,000 | 1/19/2021 |
| 294 Elm Point Road | Addison | Addison | $1,225,000 | 5/28/2021 |
| 81 Gardenside Lane | Shelburne | Chittenden | $1,232,500 | 4/30/2021 |
| 301 Appletree Point Road | Burlington | Chittenden | $1,250,000 | 5/7/2021 |
| 2952 Greenbush Road | Charlotte | Chittenden | $1,250,000 | 4/28/2021 |
| 1209 Cider Mill Road | Cornwall | Addison | $1,250,000 | 1/28/2021 |
| 51 Depot Road | Colchester | Chittenden | $1,325,000 | 4/27/2021 |
| 62 Overlake Park | Burlington | Chittenden | $1,415,000 | 4/15/2021 |
| 1348 Irish Hill Road | Shelburne | Chittenden | $1,575,000 | 5/3/2021 |
| 1505 Dorset Street | South Burlington | Chittenden | $1,575,000 | 5/28/2021 |
| 931 Red Rock Road | Colchester | Chittenden | $2,209,000 | 5/27/2021 |
| 175 McGuire Pent Road | Charlotte | Chittenden | $2,375,000 | 4/22/2021 |
| 3685 Harbor Road | Shelburne | Chittenden | $3,090,000 | 2/11/2021 |
| 11 Driftwood Lane | Burlington | Chittenden | $3,750,000 | 6/30/2021 |