| County Averages | | | |
| --- | --- | --- | --- |
| Median Sale Price: | Units Sold: | Newly Listed: | Days on Market: |
| $200,00 (-14.5%) | 126 (+18.9%) | 304 (+5.9%) | 171 |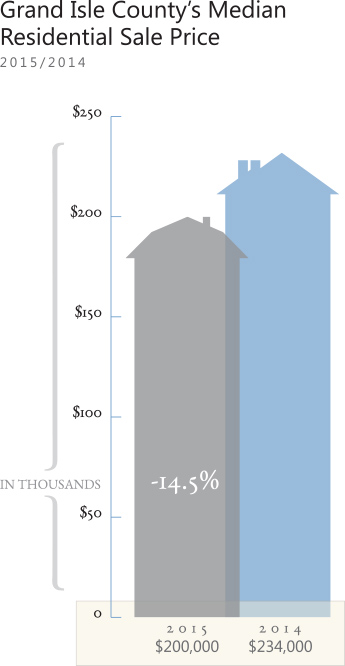 With gas prices declining dramatically last year, more buyers looked to Grand Isle for residential properties. Despite the higher number of property sales, our agents have noted a lack of strong inventory in the higher price ranges, as well as fewer luxury buyers in the market
Because of those trends, property sales last year were focused on mid-priced homes. The median sale price slipped 14.5 percent to $200,000, reflecting that trend. The number of residential sales, however, rose 18.9 percent during the year.
---
Mid-Priced Housing
The market is increasingly focused on mid-priced single-family homes. South Hero and parts of Grand Isle town have been attractive to buyers who work in Chittenden County, given the short commute time and proximity to I-89.
Four Luxury Sales
While Grand Isle is known for its high-end waterfront property, the county only recorded four sales above $800,000 last year. By comparison, Addison County recorded eight, and neighboring Chittenden County recorded 22 sales.
A Small Market
As Grand Isle is the smallest real estate market by volume in Northwest Vermont; a few sales can have a big
impact on median sale prices or volume.
Twelve land sales were recorded in 2015, slightly down from 17 in 2014. The median sale price declined 58% to $54,375.