| County Averages | | | |
| --- | --- | --- | --- |
| Median Sale Price: | Units Sold: | Newly Listed: | Days on Market: |
| $202,000 (+3.1%) | 284 (+28.50%) | 530 (-9%) | 105 |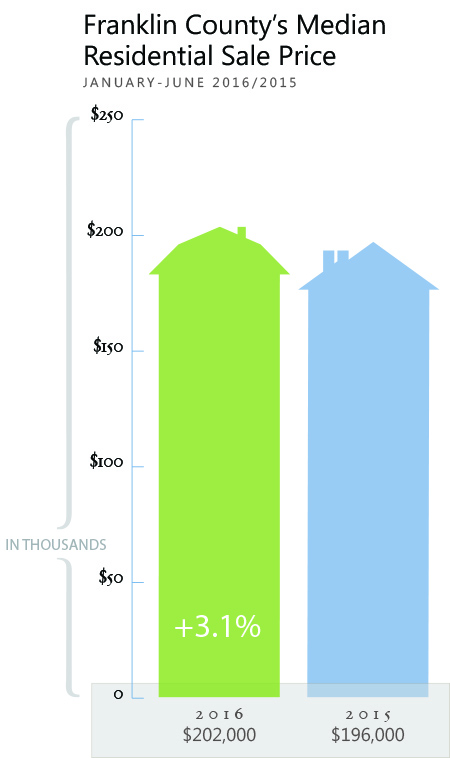 Buyers are turning to Franklin County to search for residential properties in the sub-$250,000 range, especially as inventory has tightened considerably in neighboring Chittenden County. Gas prices remain stable and below $2.50 a gallon, which makes the county a more affordable option for professionals who commute to Chittenden County or other locations.
The first six months of 2016 continued to demonstrate the historical split in pricing and demand for the eastern and western sides of the county. Towns on the western side are witnessing stronger demand and pricing, partly because they are closer to 1-89 and more attractive to commuters. Eastern towns such as Richford tend to record lower median sale prices.
Because of Chittenden County's tight market, some buyers are looking deeper into the available housing stock within Franklin County, helping to absorb some of the county's excess inventory. The market currently carries about 7 months of available inventory, or about half the levels seen in January. Because of those trends, prices are rising, with some buyers considering homes that may have been on the market for a while or are in need of upgrades.
Median Sale Prices are Rising
With tighter inventory in both Franklin and Chittenden counties, buyers are pushing up prices. The median sale price in Franklin County rose 3.1% to $202,000, marking a rare instance of the county's median sale price tipping above the $200,000 mark.
Affordability Remains a Draw
Even with the higher median sale price, Franklin County remains the most affordable county within Northwest Vermont. Buyers who are priced out of Chittenden County, where it can be difficult to find homes in the sub-$250,000 range, often turn to Franklin as an affordable option.
Stronger Economy
Companies such as Superior Technical Ceramics, which makes specialty ceramics for industrial use, and pharmaceutical firm Mylan Technologies are hiring, helping push the unemployment rate down to 3.5%.
---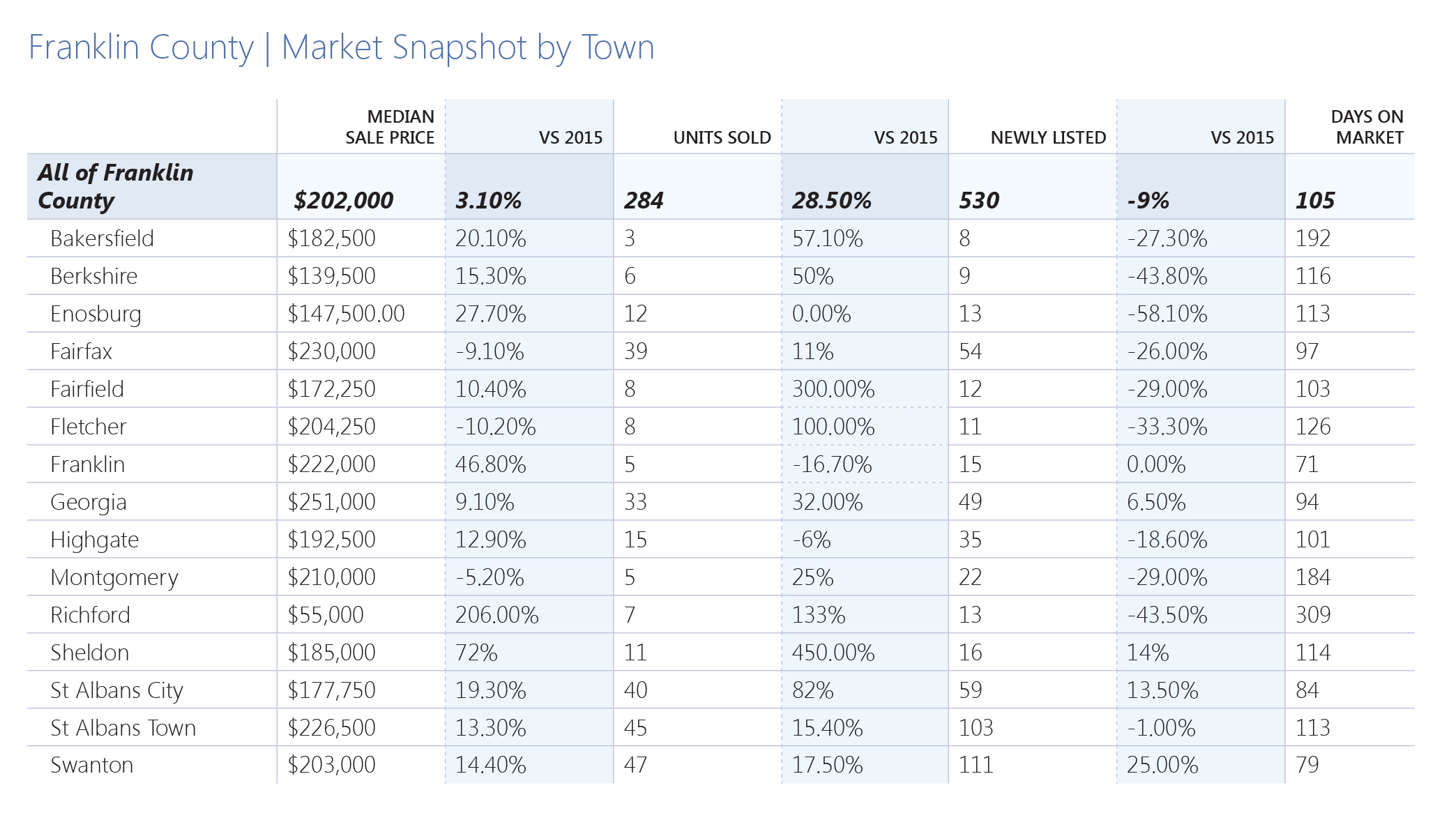 Land sales doubled during the first half of the year, rising to 22 transactions from 11 a year earlier. The median sale price rose more than 22 percent to $75,500. With the stronger economy and tight inventory levels, some professionals and retirees are opting to buy land parcels and custom-build homes.
The multi-family market was little changed, with 10 sales in the first half the year, compared with 11 a year earlier. The median sale price slipped 25% to $206,625.