| County Averages | | | |
| --- | --- | --- | --- |
| Median Sale Price: | Units Sold: | Newly Listed: | Days on Market: |
| $196,000 | 219 (1.4%) | 574 (-6%) | 142 |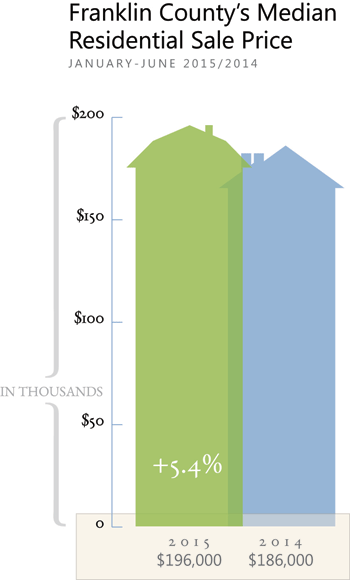 Franklin County's residential market is rebounding after a slower market in 2014, helped by demand from first-time homebuyers who are drawn by the county's more affordable price point than Chittenden County's.
In the residential market, which is dominated by single-family homes, a number of factors are influencing sales and pricing.
---
Proximity to I-89
Those towns located closer to I-89 are typically witnessing higher median pricing. For instance, Fairfax, which is adjacent to I-89, boasts the highest median sales price in the county, at $253,000. Enosburg,  an eastern town that's farther from the interstate, had one of the lowest median sales prices, at $115,500.
Towns closest to the interstate also recorded the highest number of sales, such as St. Albans Town, Swanton and Fairfax. Many of the towns in the eastern part of the county recorded fewer transactions than those in the west, which are closer to the highway.
Commuters To Chittenden County
With gas prices remaining low, some buyers who work in Chittenden County are seeking homes in Franklin County, given that commuting costs have become more affordable in the past year.
A Diverse Business Base
Demand for housing is also growing thanks to the county's diverse base of corporate employers, including Ben & Jerry's, pharmaceutical company Mylan, and logistics company A.N. Deringer.
---
Land sales fell 52% to 11 transactions. Sales were especially slow in the first quarter, when the abnormally low temperatures kept buyers on the sidelines. The median sale price for land parcels declined 9.3% to $61,800.
The multi-family market was steady with eleven sales during the first six months. Given the competitive market for duplexes and three- and four-apartment homes in Chittenden County, investors are looking to Franklin County for lower-cost options. The median sale price rose 71% to $276,000.