MARKET INSIGHTS
Median Sale Price:
$179,500
Units Sold:
90 (+11.1%)
Newly Listed:
197 (-21.2%)
Days on Market
144
After a slower fourth quarter, home sales in Franklin County rebounded in the first quarter, helped by demand from first-time buyers seeking property in towns located near 1-89. Nevertheless, demand and pricing was bifurcated between the eastern and western sides of Franklin County, with our agents noting that property in eastern towns, farther away from 1-89, are taking longer to sell and at lower prices than on the western side of the county. Across the county, median pricing slipped 3% to $179,500. Lower gas prices have helped encourage buyers to look for property in the county, which serves as a commuting hub for professionals with jobs in Chittenden County. With the question over the future of IBM's former chip plant resolved, that's also unleashed some pent-up demand for property in Franklin County. On top of those trends, some buyers are looking for homes in Franklin County because of its lower price point when compared with Chittenden County, where the median home price stands at almost $255,000. For buyers looking for sub-$200,000 properties, Franklin County may offer more value and bigger land parcels, our agents note. Towns such as St. Albans City, St. Albans Town, Georgia and Fairfax – all close to 1-89 – recorded the largest number of transactions. St. Albans City recent downtown renovation is also attracting buyers to the town, while employers such as pharmaceutical company Mylan are hiring, adding to demand for housing.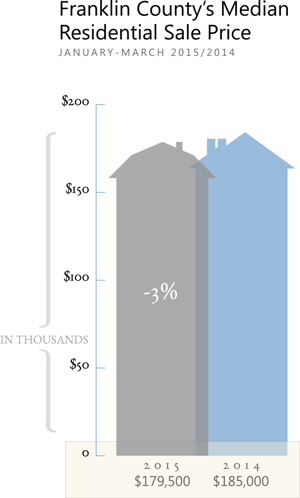 Home sellers required 144 days to market their properties, slightly more than 122 days required a year earlier. This period also reflects fthe irst quarter which includes the winter selling season.
About 93 percent of the county's residential market is represented by single-family homes, where the median sale price dipped 2.1 percent. The median sale price for condominiums rose 1.1%.
With the abnormally low winter temperatures during the first quarter, land sales fell 70% to only three transactions. The median sale price for land parcels rose 3.1% to $66,000.
Investors continue to look to Franklin County for multifamily homes, especially given the competitive market for duplexes and three- and four-apartment homes in Chittenden County. Six multi-family homes sold during the first quarter, unchanged from the year-earlier period. The median sale price rose 85.2% to $306,000.