| County Averages | | | |
| --- | --- | --- | --- |
| Median Sale Price: | Units Sold: | Newly Listed: | Days on Market: |
| $215,000 (+0.7%) | 145 (+8.2%) | 378 (-5%) | 155 |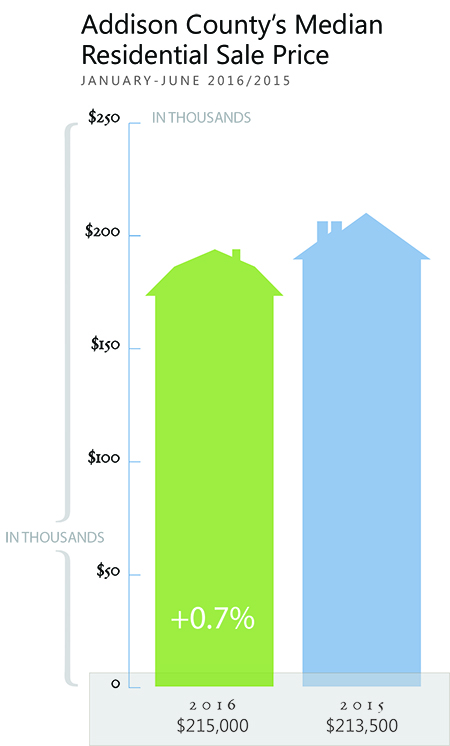 Addison County is showing an increased demand and an influx of new buyers, some of whom have expanded their property searches within the county because of tight inventory levels in neighboring Chittenden County.
As a result, demand remains robust in the first half of 2016, with the number of residential transactions rising 8.2%. Of the four counties tracked by this report, Addison County reported the smallest increase in median sale price, with a rise of 0.7%, indicating that some buyers are opting for lower-priced inventory.
The boost in activity has helped to absorb excess inventory in Addison County, which currently has about 10 months of available inventory compared with a recent high of more than 15 months in February.
With gas prices remaining below $2.50 a gallon, the county is more affordable for professionals who commute within the county or into Chittenden County than before 2014, when prices at the pump were more than $3 a gallon.
---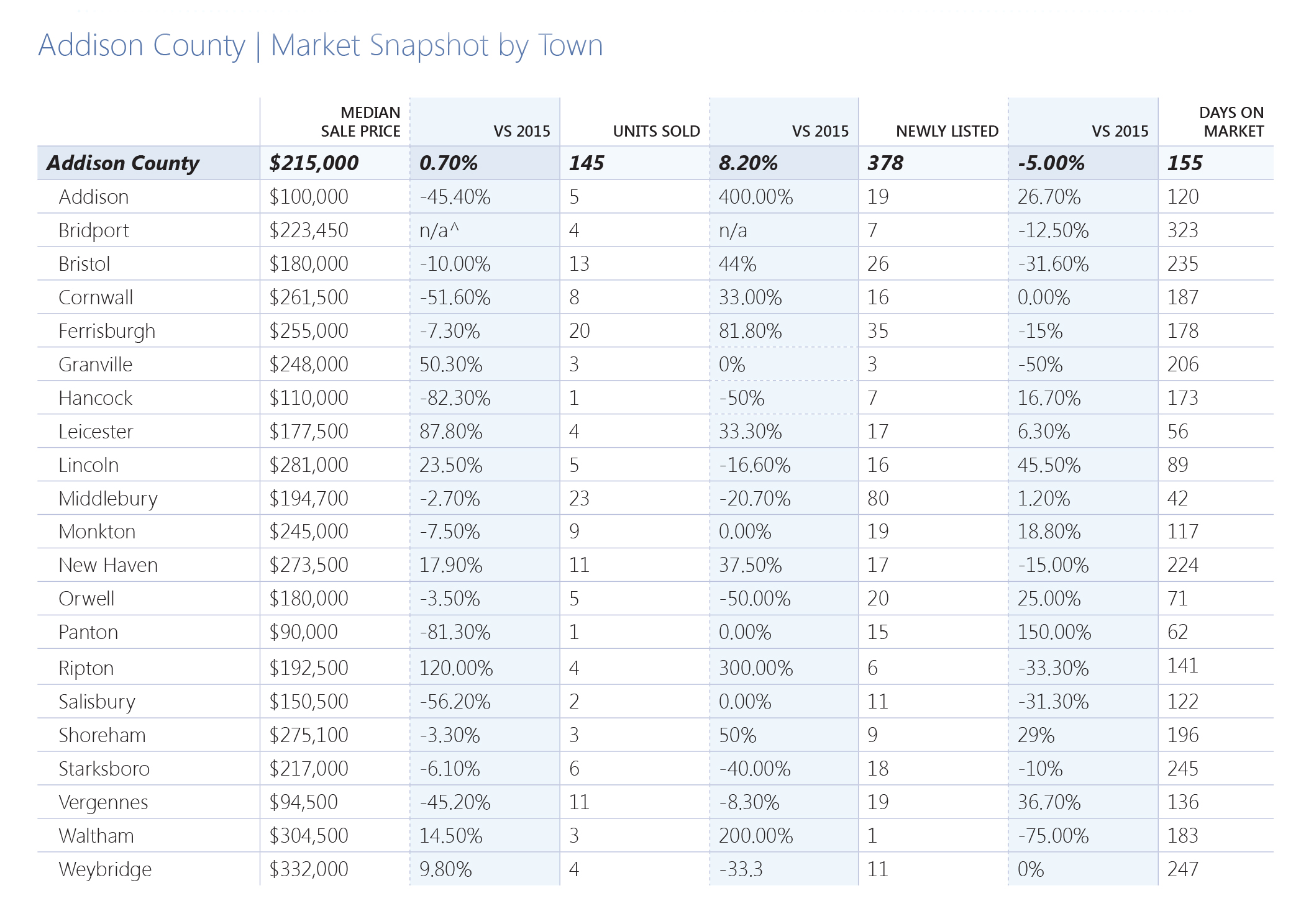 Demand For Ferrisburgh
Ferrisburgh witnessed an 82 percent jump in residential sales, although buyers sought out slightly lower-priced inventory, with the median sale price slipping 7.3% to $255,000. With 20 sales so far this year, Ferrisburgh is the county's second-busiest market after Middlebury.
Mixed Trends in Middlebury
Middlebury remains the largest market for real estate transactions, although the number of transactions slipped 20.7% to 23 sales in the first six months. Pricing was relatively steady, with a small decline of 2.7%, which may indicate that buyers are seeking out affordable properties.
Local Employers are Hiring
Middlebury College and other local employers such as Otter Creek Brewing are adding staff, helping to bring more buyers into the Addison County market. The unemployment rate in the county stands at 3.5%.
Land Demand
Sales of land jumped by 44%, driven by professionals and retirees interested in building their own custom homes on property in the county. The median sale price for land rose 17% to $95,000
The luxury market is typically a draw for buyers seeking waterfront properties or mountain estates. The county recorded four luxury sales of more than $800,000 in the first six months of the year, out of the region's 18 sales of homes in the over-$800,000 range. That puts Addison County on track to match the 2015's luxury market, when buyers bought seven properties above $800,000 within the county.